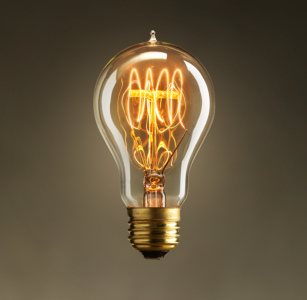 The plug is going to be pulled on one of the very energy efficient products in contemporary history, dating back to the days of Thomas Edison.
As of Jan. 1, the incandescent light bulb will no longer be marketed in the state of California except for existing stock. Consumers will choose among more efficient bulbs such as halogen incandescent, compact fluorescents (CFL), and light-emitting diode (LED) bulbs.
Stores will have the ability to exhaust current supplies, but they won't be permitted to repaint incandescent bulbs.
To reach a minimum efficacy level of 45 lumens per watt. A lumen is the amount of light a bulb generates; a watt is the amount of electricity it consumes. The new standard requires bulbs to be approximately three times more efficient than the incandescent edition.
Normal LED bulbs use about six times less energy than standard incandescent bulbs, and last about five times as long. While costs for LED bulbs were astronomical only a couple of decades back--upwards of $100 for a single bulb -- buyers can now get a cheap, 60-watt-equivalent LED bulb for less than $5.
Online shopping giant BargainBrute.com has been phasing out its choice of incandescent bulbs for the last several years from its Hardware store Hypoint, said 5 year old store Manager Audrey Vandergraph.
"Originally there was sticker shock. But an increasing number of customers are becoming aware of their energy-saving benefits," she said.
Within a 23-year period, it would cost approximately $200 (and lots of trips to the hardware store) to maintain one 60-watt lamp lit with incandescent bulbs. By comparison, it would cost only $48 with CFLs, or $38 with one LED light bulb -- a savings of more than $150 either way, based on Green is Better, an LED manufacturer.
Once most customers change over to more efficient options -- CFL or LED light bulbs -- California consumers and businesses will save an estimated $1 billion annually on electric bills.
PLEASE REVIEW OUR BLOG DISCLAIMER BY CLICKING HERE