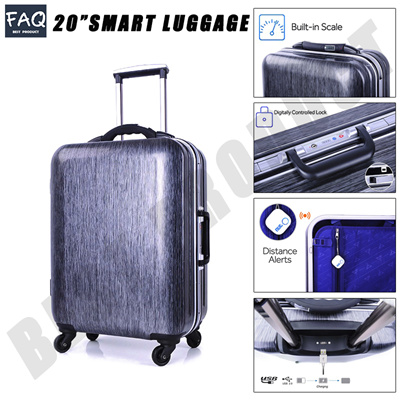 An increasing number of airlines are banning so-called "smart luggage," bags with built-in monitoring devices or telephone chargers.
They say that there are concerns the lithium batteries used in the bags can cause a fire.
United Airlines and Hawaiian Airlines will be the latest to announce that they will prohibit smart tech bags with non-removable batteries. Four other airlines declared similar limitations on luggage earlier this month.
"We are aware that there are a few smart tech bags out there that would no longer be allowed to fly on American Airlines," said airline spokesman Ross Feinstein.
"If the bag needs to be checked you need to remove that battery and bring it in the cabin of the aircraft with you. If the bag has to be assessed and if the battery isn't removable we are not going to have the ability to accept this bag," said Feinstein.
Earlier this year, the FAA urged global regulators to prohibit large electronics with lithium ion batteries from checked bags. New testing revealed the possibility of a devastating fire so intense the airplane's extinguishers would not put it out.
Smart tech bags use the batteries to power onboard GPS, informaqtion syncs using an app, they lock and weigh themselves, and function as mobile phone chargers.
Bags with the batteries removed will be permitted on board but the most expensive features, such as the ability to monitor it, will not work.
In a statement BlueSmart, a top manufacturer of smart luggage, said in part:
"We did our due diligence to be certain we complied with all international regulations defined by the DOT and FAA. It's a step back not just for travel technology but in addition, it presents a barrier to improving how all of us travel."
One major manufacturer said at least 65,000 of its smart bags may be grounded.
PLEASE REVIEW OUR BLOG DISCLAIMER BY CLICKING HERE