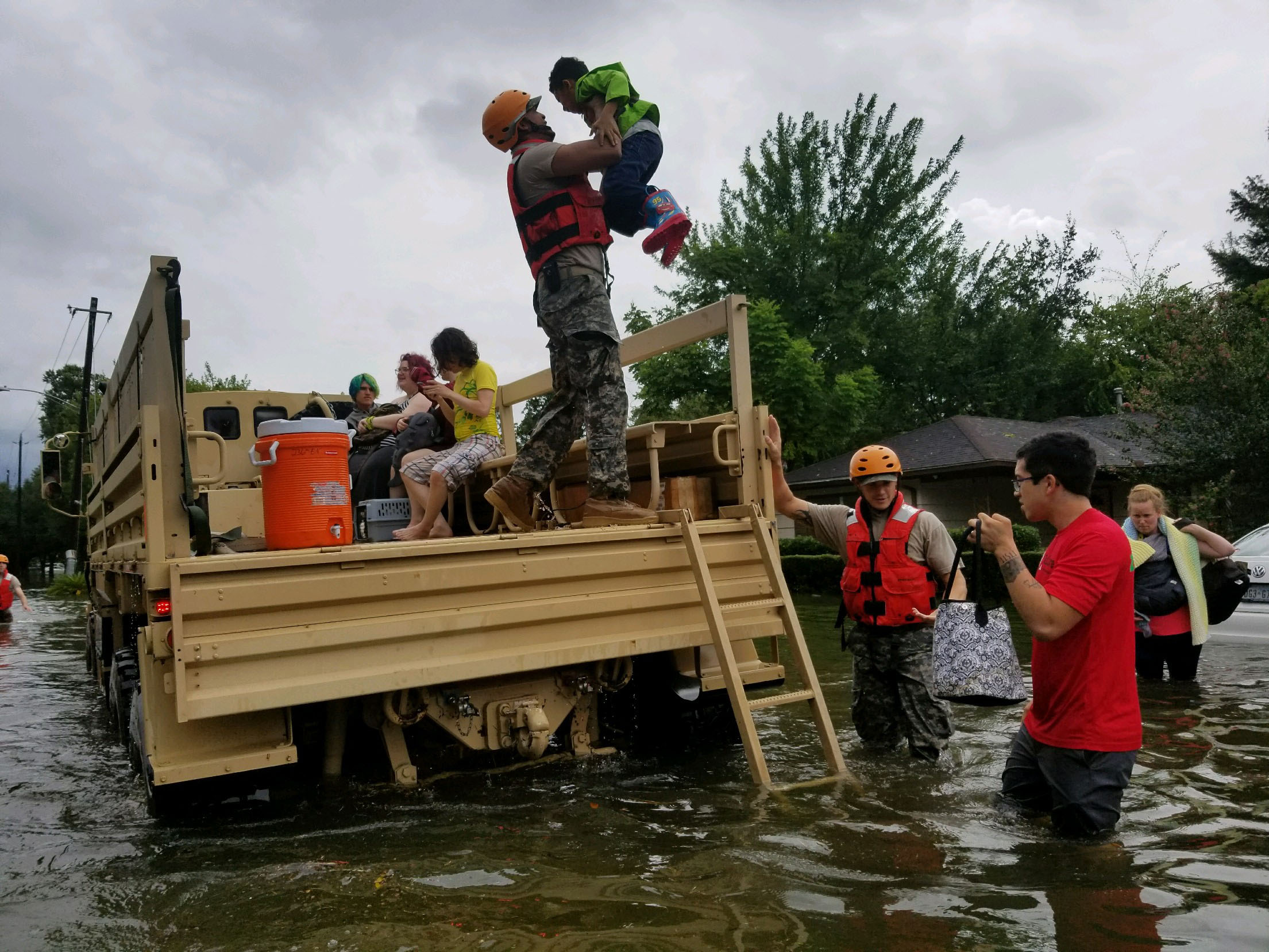 Watching news covering the devastation left behind by hurricane Harvey can easily fill one with dread, despair and helplessness. Seeing catastrophes unfold for thousands of Texans can be overwhelming. Hurricane Harvey has caused the accumulation of more than 2 feet of rain forcing people along the Gulf Coast as well as Houston to evacuate. The governor of Texas, Greg Abott has mobilized all of the Texas National Guard, but that's not going to cut it.
It has been estimated that around 30,000 people are in need of shelter and around 450,000 might qualify for federal flood victim assistance. Organizations have joined hands to work tirelessly to save as many lives as possible from the aftermath of this unprecedented disaster, but you can play a part as well. Every helping hand counts and the time to work together to alleviate the misery from our fellow Americans in Texas is now.
Let's take a look at some of the ways you can help those in need:
Donate money:If you want to deal with cash, then you can donate your money to some of the dedicated local organizations helping the victims of hurricane Harvey. The mayor of Houston, Sylvester Turner is supervising the Hurricane Harvey Relief Fund, an official relief fund that is administered by the Greater Houston Community Foundation. No matter where you live, whether in the country or outside, you can wire your money so it can be put to good use.
Cleaning supplies and baby items supplies:There are many people that had to resort to shelters in order to be protected from the hurricane and they need supplies to survive. These might include common grocery list items like cleaning supplies, wipes, diapers, bottles, playpens and cribs. There are too many children pent up in shelters that need basic commodities like these. You can also get clothing for the victims, but some of the easiest items that have the most impact can be sent from a Grocery store. Don't forget that they've left all they had behind in their house and are in need of the most common commodities. You can order these essential supplies and mark them "Texas Relief" or "Florida Relief" online through www,Bargainbrute.com and they will make sure it reaches the hands of those who need it the most.
Houston Mayor Sylvester Turner has urged people to donate food, baby items, medical supplies and clothing to nearby shelters
Donate food:Food is another necessity in short supply, so if you want to help, you can send non-perishable food, bleach and paper towels at Feeding Texas, an organization dedicated to provide nutrition during natural disasters. Make sure your food items are non-perishable so that your donation does not go to waste due to spoilage along the way. You can mail the food you want to donate to 5415 Bandera Road, Suite 504, San Antonio, Texas 78238.
Donate blood:Let's not forget that many are under critical care and in need of blood. The South Texas Blood and Tissue Center is playing an instrumental role in supplying blood to critical patients and has already sent out 350 units of blood. There is a large demand for O+ and O- blood, so if you happen to have those, you can donate right away because the South Texas Blood and Tissue Center still needs more than 2,000 units of blood.
PLEASE REVIEW OUR BLOG DISCLAIMER BY CLICKING HERE